AROUND LA WITH AVA®: A Talk at the Tupa
Following is the text of a presentation made by Ava Anttila to the Los Angeles Finlandia Foundation at the Pasadena [CA] Museum of History on October 18, 2015.
It is so wonderful to be here today!! The Los Angeles Finlandia Foundation has a special place in my heart. Thank you for inviting me.
As a Finnish born/American educated immigrant, I have consistently sought the company of 'Friends of Finland' in my new home. I began my search early [age 7—-seems like yesterday!!].
I have been fortunate to have been consistently successful in finding others who cherish their Finnish heritage, ancestry, culture, and language. Actually, as a little girl, my primary challenge was to learn the new language everyone around me spoke—except for my Parents!
Typically 'Finnish shy', I learned SISU before I knew how to spell the word—in either Finnish or English. Gone were the days of blond-haired, blue-eyed friends at the French School my Uncle ran in Helsinki!! I was a stranger in a strange land—my immersion French did me no good.   Now, I stand here before you giving a speech in English with three degrees from good American schools behind my name.
In other words, I am just like you and your kin who made the long trip, found a new home, and learned new ways. I was fortunate in other aspects, as well.   My Parents continued to use Finnish as the household language while they learned the words and ways of the worlds in which they now worked. Also, I soon learned that my American friends did not care that Santa was Finnish and came to our home on Christmas Eve—as long as he made it to their house before dawn!
Life happened.
I got to go to Finland to see family and friends many Summers. Finnish visitors came to our home when traveling. I learned to down-hill ski—I had learned not to kiss brass moose statues in Winter in the park before moving to the USA!
…Those and some other important things.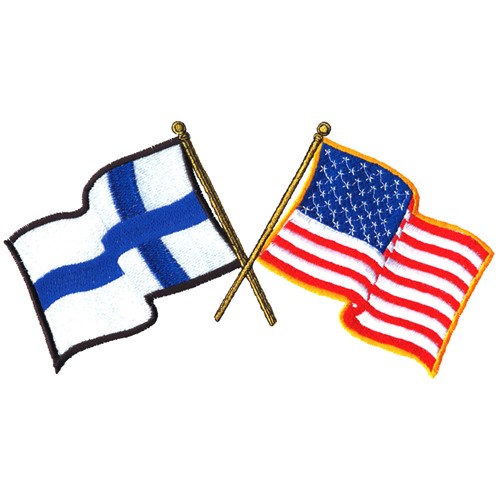 Preparing for this presentation reminded me of the passage of time and the joy I have found in living fully in two cultures from my childhood on. I have learned so much about being a Finn and about being an American by participating in the fun functions of groups who celebrate their history. While many Finns feel a need to 'choose sides', I have preferred to join and support any worthwhile Finnish group, organization, or program. I look at our family of Finnish organizations as complimentary, not competitive!
It has been fun. I have learned a lot. And, I have gotten to know some fascinating people.
The work, the dedication, the spirit of Finnish American volunteerism is alive and well. LAFF's pedigree and performance have been standard setters and an inspiration.
Since we all view the world through our own eyes, I hope you will forgive me the indulgence of sharing some of my 'views'.
The last LAFF meeting I attended was the June Scholarship Picnic. Having allowed for more traffic than I experienced, I arrived 'on site' early.   This rarity gave me an opportunity to do something I had wanted to do for a long time: snap a few photos of the Tupa.
Wandering through the LAFF treasure felt like "home". I was transported to places I had seen as a child with my Grandparents. I could 'see' –and feel the Finnish way of life, of making things needed for living, of surviving, of making the best of things in harsh circumstances. LAFF's dedication to the keeping of that heritage really touched me in that moment.   Because the Tupa stands as a museum of a reality that I experienced, I can bring my Grandchildren to see the way things were when the world was 'different'. And, because I have my Grandmother's antique 'spinning wheel' from which she actually made yarn for fabric from the flax she grew in the meadow outside what is now the Summer cottage in Finland, I can share that history. The 'touches to reality' are important, I believe.
That June Sunday I returned to California reality quickly upon looking up after exiting the Tupa. I was standing under a humongous redwood tree—not a white birch!
The momentary melancholy brought on by memories that were mine alone and which could be shared with others only in part was erased by a sudden flashback to the Finnish Lutheran Church Christmas Service this year. I remembered congratulating myself on arriving early—the place was packed, but I had been able to find a pew near the rear where I usually sit.
["Yes, even Finnish lawyers are creatures of habit!"]
My petty proclivities aside, the real lesson occurred in the 'quiet time' before the formal Service when we were supposed to be enjoying the glorious music of the Season. I found myself listening to the chatter of the probably 5 to 7 year olds sitting a pew back who had brought friends to the Service.   The conversation was respectfully muted, but non-stop! The Finnish related children were excitedly telling their non-Finnish friends how things REALLY work at Christmas! Each proclamation began "In Finland, at Christmas…!!!"
I smiled, breathed a sigh of relief, and felt the comfort and hope of the Season. With a little help from their parents, our Grandchildren will find their own way to the Tupa—and will bring their friends to share in their proud heritage!   Thank you LAFF for assuring there is a Tupa for them to show to their friends and to boast about being Finnish!
What is the common thread in all of our stories, individually and as organizations, that celebrate our 'Finnishness' from slightly different 'angles'? Where did we get our adaptability; our Finnish heritage of strength (Sisu); our ability to recognize and celebrate the wonders of life; the creativity and independent spirit of artists, musicians, entrepreneurs—and how do we help the next generations perpetuate and hone those great qualities in a new land?
Look at the world leaders who have been at our doorstep, look at Finland on the world stage, and look at the beauty of the nature that has inspired and that continues to inspire us all. We have much to celebrate and much to be proud of—how we do that may change, however.
For example, former Finnish President Tarja Halonen will be in Los Angeles soon to give a speech to the renowned Los Angeles World Affairs Council. I was invited to attend President Halonen's presentation by a WAC executive who is the daughter of a longtime friend and who knows of my Finnish roots and activism. To my knowledge, the last address to this prestigious group by Ms. Halonen occurred when she was Finland's Foreign Minister and the EU was in its infancy.   The FACC was actively involved in the promotion of that event. As President of the FACC, I joined several of our Board Members for an early morning, private breakfast with the Minister at a downtown hotel. The Foreign Minister got to try out several of her 'risky' speech points on us and we got some valuable 'face time' with a future President of Finland. Her speech to a packed house worked exceptionally well—especially the 'trial points' we had screened.
That was then. This is now. It is up to US to determine how things happen in the future.

As members of LAFF and the FACC, we were truly on parallel paths –much like a brother and a sister living in the same family during the same exciting times as our organizations got their start locally in Southern California. It has been fascinating to learn about the early years of Finns here in Los Angeles via the presentations and information provided by the Halme family members as part of LAFF programs.
For LAFF, the days of Väinö Hoover, Yrjö Paloheimo, and others provided insight and information about the mutual support for Finnish families and the social, religious, and business community system that evolved. The Finnish organizations we have today seem to have blossomed during a time of awakening for the Finnish American community and a new generation of immigrants in the decades that followed WWII. Those were exciting times of friendship and mutual support!
Before we go too far down our mutual memory lane, I would like to tell you about the Finnish American Chamber of Commerce. Here on the Pacific Coast, in 1963 The Finnish American Chamber of Commerce was established and began operation with the election of the first Board of Directors in January of 1964. This empanelling was celebrated with a reception in February of 1964 by none other than Finnish Consul Yrjö Paloheimo at his home at this very place in Pasadena attended by 300 guests. At that event, the new FACC President, Tauno Santalahti, received a Chairman's Gavel from Consul Paloheimo. That Gavel was a special gift from Finland's President Urho Kekkonen. At the same time, various other cities throughout the US were creating similar programs to support Finnish businesses' needs.
The FACC Pacific Coast got off to a good start with luncheon meetings, dinners, and special events featuring business, political, and cultural speakers and traditional Finnish celebrations.   Programs evolved through the years.   Events were open to all, but FACC members got special benefits such as one relatively recent event where attendees had the opportunity to have breakfast with 25 Finnish company CEOs at golf's legendary Riviera Country Club. There, one-on-ones with our Homeland 'movers and shakers' were 'par-for-the-course'. The guests had fun, the venue was unique, the food was good—and everyone was at work by 9:00!
One event that continued through decades was a Luncheon Meeting at the San Diego Yacht Club hosted by then Finnish Honorary Consul Bert Salonen. [Bert was an early FACC leader who served as a Chamber President in the early 1970's.] Visiting dignitaries (particularly Finnish Ambassadors) loved being invited to the San Diego March luncheon held at the San Diego Yacht Club famous as host of the Americas Cup races.
Legendary Greta Peck was a loyal member of the FACC who was always up for the meetings in San Diego. In her later years, she was a delightful passenger telling wonderful stories of her life with her once husband, actor Gregory Peck. Greta was a living anthology on life in Hollywood in the early 1950's.
One year Greta brought along her friend –an actress who had played Jane in the Tarzan movies! I SO wanted to introduce Greta's compatriot to my dear friend and neighbor who used to date Johnny Weissmuller—the original Tarzan!    
I passed on the introduction in deference to my neighbor's husband!      
Greta Peck often hosted FACC meetings at her home. One particular Vappu event featured someone I think you all know, Diane Järvi. Diane went on to become Finlandia Foundation's Performer of the Year!
I could go on about Greta's great philanthropic works and her love of Finland that began at her birth in the iconic Helsinki Rail Station but, suffice it to say, the FACC named its grand Service Award in her honor.
The Greta Peck Award is uniquely given to someone who possesses the American Spirit of Community Service and the Finnish Spirit of Promoting the Homeland, Finnish Enterprise, and Finnish Values. The tradition continues. The most recent recipient of the Greta Peck Award is Pirko Satola Weeres.
And, the beat goes on even when things change.
My history with the FACC is long.   After many member, committee, and Board years, I served 3 years as Vice President. I was elected President and served for three terms. I was only the second woman to be elected President of the FACC—my immediate predecessor was the first, but she was a newly arrived Finnish woman entrepreneur who did not know—or care, about the 'unwritten rules'.
The Presidency of the Council of European Chambers of Commerce was next for me. CEAC was the umbrella organization for all the European Chambers. It was an exciting and active group formed in support of everything going on with European unification and the creation of the European Union, the Euro, and such fun things. We found that successful Chambers shared similar characteristics—active, committed members who worked together well in support of a proud heritage.
LAFF, the FACC, and Suomi Kerho have seen our mutual organizational families support one another through the decades while each pursued its founding purposes. We have been like brothers and sisters [–at least 'kissing cousins'!] living parallel lives while occasionally caring and sharing many of the things we have in common such as our collective Finnish family. Other groups like Katirilli find their audiences across the Finnish and Scandinavian spectrum.
We have come together and worked together for our collective good on so many occasions. In preparing for today, I looked back on the materials from one of our joint Independence Day Celebrations at Loyola Marymount University.
First, a Catholic University is an unusual place (at best) for a Lutheran Nation to celebrate a major milestone. As a quality academic institution, it is reasonable for Loyola to offer foreign languages for study—to have the Chairman of the History Department, Brother Griever, promoting facilities and faculty waivers for the teacher of Finnish classes is remarkable. At our Independence Convocation in the Loyola Chapel, after the President of Loyola welcomed the Finnish Community, Elissa della Rocca read the lesson in English and I gave the reading in Finnish [no Latin here!].  Suomi Kerho supported the program and the children of Suomi Koulu sang at the festive luncheon that followed. That was a new world for many.
In those days, that was what we did.   Our enthusiasm for Finland and for what we were doing was contagious. Others, like Loyola, went out of their way to be helpful.   Good events happened. Many of you were there.
Wasn't it fun?!!
Let's take this story home!
Finland's trade and offerings to the world have taken turns throughout the years. Finland's adaptability and capacity to focus on its strengths has been remarkable. The transitions from agriculture to paper and timber to ice breakers and cruise ships and on to high tech have all permitted Finland to successfully reinvent itself and offer the world the best of what is needed.   (Nokia went from making the best rubber boots and tires to making the best cell phones—no problem!)
Beginning in the early '90s, cellular, facsimile, and notebook technologies brought industries closer when introduced to market. That led to the daily, instant use of the internet, virtual reality, and information technology at our fingertips, on our windshields, and even on our 'Dick Tracy' wrists. The Information Society that has been created utilizes all means of communication together at unheard of speeds.
What does this mean for business and our personal lives? For openers, there is increased and 'borderless' competition for business and for talent!
There are important applications in education, e-commerce, health care, finance, and the like. The EU has continuously supported the future vision of Finland and has supported the implementation of the technologies that have made Finland a world class example the EU can hail.
Finns lead in the use of computers, cell phones, and the internet in daily lives and enterprise. The effective integration of technology into daily life, including corporate management and education has placed Finland on the forefront of our new tech world.
I had to do major upgrades to my conventional technologies—credit cards, cell phone, and laptop computer, just to be able to buy rye bread and get messages in Finland this year!
"Los Angeles now leads the US with clean tech, gaming, and the creative industries."
If that last sentence makes no sense to you—we are in trouble. By "we", I mean LAFF, the FACC, Suomi Kerho, and any of the traditional Finnish American organizations that have served our community so well for so long.
Let me put it this way, even though it is embarrassing. My Grandchildren are 4-5-6-7. They each have electronic tablets that are in constant use. I own a tablet, but I do not know where it is or how to use it. They have fierce Angry Birds II competitions and know all of the characters by name and other 'stuff'—I simply know that several billion downloads of the latest version of the famous Finnish game occurred almost immediately upon its release. That is BIG!
When our Finnish organization 'family' rallied to create a wondrous 80th Anniversary of Independence celebration around our local War Veterans and Lottas, we brought the entire Finnish American community to attention in salute of the very real people who fought two wars to preserve that Finnish Independence. That was as fine an event as I have ever helped produce or attended. With a Veteran Father and a Lotta Mother, it was a labor of love and gratitude.
I am a proud member of Veteraani Tuki. Suomi Kerho still hosts meetings—same time/same place every other month.   The sad fact is we have only a few remaining local Veterans or Lottas to attend those meetings.
Time happens.
Currently, I am working on a committee planning the build up to the 100th beginning with CELEBRATING FINLAND 2015 on December 4, 2015 at the Finnish Consular Residence.
It will be different. It will be fun. On invitation, respond promptly to reserve your place.   Space will be limited. [The Finnish Consulate will not hold an Independence Day event this year.]
Of all of the local traditional Finnish American organizations, LAFF may have done the best job of recruiting the next generation of leaders to take over.
I am impressed with the growth, congregation composition, and reception of the Finnish Lutheran Church in Santa Monica.   That is a healthy addition to our 'family' that is attracting a younger group of Finns, including families.
Another positive program for future generations is the apparent health of Suomi Koulu. Our 'senior' organizations should probably find ways to support and encourage the teachers of our youth. I would love to hear the youngsters "…in the pew behind" explain Finnish Christmas to their friends in Finnish!
The FACC has been battling with a re-generation to the activist organization it once was –and aspires to be again. We are working on our WHO WE ARE/WHAT WE DO with both plans and programs. We know that when we do interesting things, people show up. Our Vappu party this year was so successful we had to close reservations and we staggered arrival times to accommodate demand. We are hard at work and are learning about the new world in which we live.
I hope that you will regularly visit the FACC website and Facebook page for news and upcoming events. You are always welcome to join us!
THE TRUTH IS:
We have a new generation of creative young people who have gravitated to Southern California. I have met many and I have worked with some. They are different. I am impressed.
"Los Angeles now leads with clean tech, gaming, and the creative industries." With the music industry, films, entertainment, and other more exotic creative industries, Finnish talent is making great marks.
Finnish technology continues to be world class and cutting edge. Finnish education is ranked as world best. It is a safe bet that new and wondrous 'things' will continue to happen in Finland and that some measure of Finnish talent will find its way to our grand markets. As in days past, the Finnish American organizations that were created decades ago to help the 'newcomers' find their way and to find a measure of comfort in this strange land need to dust off their 'playbooks' and welcome the new generations of Finns to our midst.
That is the current thrust of the FACC—our world has changed, so must we.
We all have had a part in the weaving of the fabric of what Finland has become in the last 100 years—here and worldwide. As the excitement builds over the next two years for 'the big one', let's seize every opportunity to find our common Finnish threads as we have done before.   We will share the challenges and the work together in building the joyous celebrations.
I have had fun today. I hope you have too!
We all have much to be thankful for individually and collectively as a community as this joyful Holiday Season begins.
AS YOU GATHER WITH FAMILY AND FRIENDS
ACKNOWLEDGE YOUR BLESSINGS
HAPPY THANKSGIVING TO ALL